"The Qoya Intensive Teacher Training was one of the most profound experiences I've been blessed to have. While the weeklong Intensive was transformative, I have really begun to feel the transformation during the integration process. The energetic shifts I received in Costa Rica began as a download straight into my heart and lovingly absorbed into every molecule of my being. My perspective of presence and participation in the world around me truly is an unfolding as the embodiment of my Divine essence. I am eternally grateful for the gifts Qoya has offered me."
LEIGAH LOCKE, Qoya Teacher
"The Qoya Teacher Training Intensive is one of the richest experiences I've ever had. Get ready to dive deep into yourself, magic, and community. This training removed many layers of falsehood I hadn't known I was carrying. At times I felt I was running a spiritual marathon - and loving every second of it. My heart burst open. I was taken to the center of the mysterious spiral of life. Come as you are, leave as yourself unbound. Why wouldn't you?"
VIRGINIA, Qoya Teacher
"Qoya Intensive was more than I could ever have imagined. Each day felt like a lifetime in the best possible way. Each individual day was worth the investment, let alone the whole week. Each exercise, ritual, discussion, lecture, and class were woven together perfectly. I went in knowing what Qoya is and I was able to teach a class. I came out feeling the spirit of Qoya in my bones- like it was alchemically transferred into my being. The way the group comes together in this environment is nothing short of magical. I know that the intentions, dreams, and desires I brought to the Intensive are being nurtured in the hearts of all the women who held space for me to plant them."
KACI, Qoya Teacher
"The Qoya Intensive Teacher Training in Costa Rica went far beyond my expectations. I've been teaching Qoya classes for three years and the Intensive week took my teaching to a whole other level with an even bigger expansion in my spiritual growth. I feel fortunate to teach and live the message of Qoya. It would be well worth it to take this course every year just for my own personal growth."
BETSY, Qoya Teacher
"The Qoya Intensive Teacher Training week was powerful and profound. It was a turning point in my teachings. I am more aware of how to co-teach with the music and let it guide the group. I have much greater respect, understanding and tools given to harness the power of music to touch and move people. I had already done an Initiation teacher training in Brooklyn and two Qoya retreats in Costa Rica, not to mention Qoya classes and retreats in India, Peru, Miami, CA, Woodstock, NYC, and nothing came close to how transformational this week was. My teaching quantum leaped after the Intensive; it was night and day. I feel so confident and eager to teach now, but beyond that, I feel passionate and moved to share. What I learned about teaching Qoya, was like everything in Qoya: a metaphor for how to live. I embodied a way to speak my truth and serve others in ways that serve me. It was a modern day initiation. A rite of passage. It marked a new era for me, and a big YES to my dreams and purpose. A seed was planted. I'm growing more free, joyful, centered, open, and ready to expand and move upwards and forward, one dance at a time."
FABIOLA, Qoya Teacher
The Qoya Teacher Training is a profound experience for personal growth that empowers you to hold space for others in your community as they dance with the blessings and challenges of their lives.
This course is not only about what and how to teach a Qoya class. You learn "what" Qoya is in the Intro and "how" in the Initiation. The Intensive is "why" you teach a Qoya class - specifically, why YOU teach a Qoya class.
In a moment when movement as medicine is needed, why would you call in sacred space? Why would you circle? Why would you open your heart or your hips? Why would you dance your yoga as prayer, shake, do a grapevine, free dance or sit across from another human being and share?
When you get to the heart of anything, you get to the heart of everything. When you get to the heart of Qoya, you get to the heart of yourself.
Please note: this is NOT a retreat. This is not relaxing (except to your soul, who loves this inquiry). This is not full of free time to get massages and rest. This is an intensive, and you will do better if you come well-rested and prepared, having taught at least 11 practice classes. You should come ready to do your inner work, to create and co-create experiences, and to teach for the group and shine.
Qoya's style of leadership is not to take up all the space and ask you to be like the teacher. Instead, we prefer to create opportunities for you to rise and shine your unique medicine into the circle. We are counting on you to show up fully if you enroll in this training. We also ask that you feel a big YES in your body when you sign up since the whole point of Qoya is to deepen the connection between being able to listen to and honor the wisdom in your body.
We look forward to dancing together and if you have any questions, please reach out to info@qoya.love, and we'll be happy to help.
The Intensive is a powerful week of personal transformation.
Qoya is designed to teach you how to keep your channel open and reconnect to the lineage of those who have come before you, those who dance alongside you, and those who will benefit from your efforts in this lifetime.
My desire is to empower you to continue to share Qoya with your communities. The intensive is also a prerequisite for those who with to learn how to lead Qoya retreats.
Everyone in the training will lead a Qoya class and receive feedback from me and the other women in the training. We will go deep into the philosophy and metaphysical reason each pillar is needed to hold up a Qoya class through initiatory rituals.
The days are full and magical! A sample itinerary is below, but be prepared to flow.
There are reading and homework assignments before and after the Intensive with group calls for each that are recorded to reference as you need.
The books are:
The Desire Map by Danielle Laporte
Radiance Sutras by Lorin Roche
Autobiography of an Orgasm by Betsy Blankenbaker
Tiny Beautiful Things by Cheryl Strayed
If you feel the call in your body to lead Qoya in your community, we invite you to listen to it and live into the experience of trusting your inner knowing and your body. Trust it not only as a home where you live for this life, not only as the temple where your spirit dwells, not only as a guide that offers intuition and felt sense, but as a beloved companion for this journey.
Qoya is based on the idea through movement, we remember.
We remember our essence is wise, wild and free.
SAMPLE ITINERARY
March 30, 2019
4pm: Arrive and Check In
6:30-7:30pm: Dinner
8pm: Opening Ceremony
Daily Schedule
7:00-8:30am: Qoya Class
8:30-9:30am: Breakfast
10:00-12:30: Morning Session
1:00-2:00: Lunch
2:30-4:00: Qoya Class
4:00-6:00: Afternoon Session
6:30-7:30: Dinner
7:30-9:00: Qoya Class
9:00-11:00: Evening Ritual
April 6, 2019
7:00-8:30am: Closing Session
8:30-9:30am: Breakfast
10:00am: Departure
FACILITATORS
Your facilitators for this journey are Samar Ocean Wolf Ciprian and Claire Garin. All teachers completed their Qoya Intensives with Qoya founder Rochelle Schieck and have apprenticed and co-led Intensives alongside Rochelle.
In addition to being a Qoya teacher and trainer, Samar is a Certified Practitioner and Self-Care Teacher of the Arvigo Techniques of Maya Abdominal Therapy®, and a Mayan Spiritual Healing Practitioner of the same lineage, with additional training in advanced bodywork techniques and pregnancy/post-partum care with Dr. Rosita Arvigo. She's also had the joy of training with Tami Lynn Kent, author of Wild Feminine, and is honored to be a Holistic Pelvic Care™ and Holistic Pelvic Energy™ Provider. She draws on all of these healing practices in her teaching to connect with the earthy wisdom of the body and commune with the wild winds of Spirit's energy.
In 2008, Claire discovered Reiki and fell in love with alternative medicines. She became a Reiki Master while simultaneously obtaining her diploma as a Sophrologist-Sophrotherapist in 2013. She found Qoya in the summer of 2016 and traveled to the U.S. to take more classes. She took the Initiation Training during the Costa Rica Collective Retreat in March 2017, and the Intensive in May 2017 in Seattle. She's led hundreds of Qoya classes and several teacher trainings, and co-led the 2018 Qoya France Retreat with Rochelle Schick. She finds her freedom by offering different containers (individuals sessions, classes and training, daily workshops, retreats) with all these different tools, mostly in Paris, but also all over the world!
LOCATION
This retreat will be held at Blue Spirit, one of the foremost world-class yoga and meditation retreat centers in Costa Rica. Located in Nosara, the center is perched on a hilltop overlooking the Pacific Ocean and a three-mile white sand beach that is protected as a turtle refuge. The pristine nature, subtropical climate, dedicated staff, and the healing energy of the center provides an extraordinary setting for spiritual transformation, personal growth, and environmental sustainability.
COST + ROOM CHOICES
Pricing is per person. Single room means you'll have the room to yourself, and for a shared room, we will assign you a roommate.
SOLD OUT: Superior Ocean View Room (Single Occupancy - $4,299)
These beautiful double rooms have step-out balconies and lots of windows with extraordinary ocean views. The room is elegantly furnished to provide the most luxurious space. Each room has a king-sized bed, a private bathroom with solar hot water and air conditioning. Superior Ocean View rooms have a safety box large enough to fit a 17" laptop computer.
SOLD OUT: Pacifico Cottage (Single Occupancy - $3,879)
The Pacifico Cottages are tucked away amidst the lush tropical gardens and close enough to the sandy Pacific Beach so that the sound of the Ocean will rock you into sleep. These beautiful and rustic new rooms feature a private porch with a hammock, one queen-size bed, an outdoor shower, air conditioning, and a safe big enough to fit a 17" laptop. From the main building the Cottages are a short walk down the hill towards the beach.
SOLD OUT: Mountain View (Double Occupancy - $3,348)
This double room has a step-out balcony and large windows with an extraordinary mountain view. The room is tastefully furnished and provides the perfect space for two people. It has a king-sized bed or two twins with a private bathroom with solar hot water and air conditioning. Mountain View Rooms have a safety box large enough to fit a 17" laptop computer.
Nature Suites (Double Occupancy - $3,276)
Nature Suites are very cozy and located on a hillside overlooking the lush vegetation. They are simple and natural wood frame structures and have private bathrooms with an outdoor shower overlooking the jungle. Each Suite sleeps two people and includes a separate enclosed porch with a desk. All Suites have solar hot water as well as air conditioning. The Suites are a short walk up the hill to the Main Building. Nature Suites have a safety box large enough to fit a 17" laptop computer.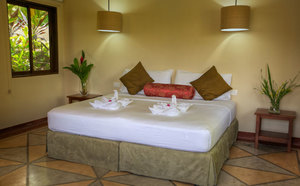 SOLD OUT: Hermitage Rooms (Single for $3,399 - OR - Double for $3,126 )
These rooms are specifically designed for singles and provide privacy and elegance, while being cozy and inexpensive. Many of these rooms have partial views of the ocean and others of the mountains nearby, a queen-sized bed, a private bathroom with solar hot water and air conditioning. There are also a few Hermitage Rooms available with twin beds for two people. Hermitage Rooms have a safety box large enough to fit a 17" laptop computer.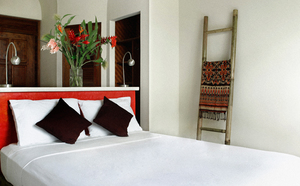 Eco-Cottages (Double Occupancy - $2,898)
The cottages are beautifully situated in lush vegetation, allowing for a sensual being-in-touch experience with nature. They are simple and natural wood frame structures with screening for natural ventilation. Each Cottage sleeps two people and has a private bathroom with ambient temperature water shower, or you can use our shared bathhouse with hot water showers. Everything runs on solar powered electricity to provide a comfortable and ecological setting. The Eco-Cottages are situated below the Main Building and involve a short hike up a stone stairway to get to the Main Building. Each Eco-Cottage has a safety box large enough to fit a 17" laptop computer.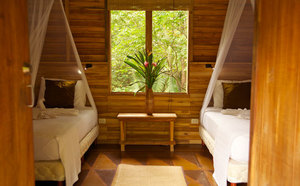 SOLD OUT: Platform Tents (Single Occupancy - $2,862)
Each Platform Tent has a queen-sized air mattress and is placed on a platform under a wooden roof for protection against the sun and rain. The Tents are surrounded by nature and close to a shared bathhouse. All linen, pillows, and towels are provided to guests. Guests in the Tents can bring valuables to be stored in the safety box at Reception at no charge.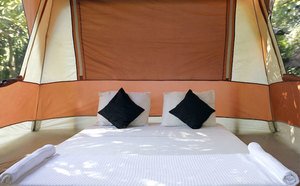 PREREQUISITES
You must have completed the Introduction to Qoya online training ($250) and your Initiation Training ($600) in order to attend the Intensive. If you'd like some guidance on how to complete these requirements before an upcoming Intensive, please contact us at info@qoya.love.
CERTIFICATION
To become a Certified Qoya Teacher offering Qoya classes to the general public, you must complete the Intensive training, which includes teaching a class to a Qoya Teacher Trainer, and sign our Teacher Training Agreement. At the Intensive, you will have the opportunity to teach your class and sign the agreement, completing your Qoya Teacher journey. You can also opt to teach your certification class after the Intensive, if you desire more time to work on your teaching. To maintain your certification, you must participate in our Continuing Education program, which includes monthly phone calls with Rochelle and other resources to support your teaching practice.
COST + REGISTER
This retreat is for women only, ages 18 and up.
Your tuition includes:
7 nights accommodation

3 meals a day of delicious, nourishing food

Intensive Tuition
Your tuition does not include:
travel to Costa Rica

shuttle from the airport to Blue Spirit
Register for the Collective Retreat and save!
If you register for both this training and the Collective Retreat (the week before the Intensive), you can use code CONNECTINTENSIVE when registering to save $500 off your Intensive tuition.
Register for your spot today
Payment plans are available through February 15th, 2019.
Cancellation Policy: If you need to cancel for any reason and we can find a person to take your spot, we will refund the amount paid minus a $250 administration fee. If we cannot find a person to take your spot, there are no refunds; however, you can transfer your paid spot to someone else, so you can send a friend or family member to the retreat in your place.
You were born to share yourself fully in this life.
The only thing harder than going for it is not going for it. Join us and step into alignment with your purpose, your sacred work, and finally living as the woman you were born to become.
Frequently Asked Questions
+ What time of day does the course start, and what time does it finish?
It starts with dinner at 6pm on the 30th, and ends at 10am on the 6th! We recommend that you arrive around 4pm on the 30th to have time to settle in before dinner.

+ Will I be a certified teacher after the training is complete?
To be a Qoya Certified teacher, all the 3 course levels must be completed (Intro, Initiation, and Intensive), and you must teach a class for a Qoya Teacher Trainer, either at the Intensive retreat or afterwards either live or via video. To maintain your certication, you must also sign the Qoya Teacher Training Agreement and participate in our Continuing Education program.
+ I am interested in the teacher training itself, but I'm not sure if I want to teach. Is that okay?
If you are a regular Qoya participant, Teacher Training is an amazing way to bring more structure and inspiration to your personal practice, and to go deeper into the fundamentals of Qoya. That said, the focus of the Intensive will be on teaching Qoya to others. We have many teachers who incorporate Qoya into other offerings they have, like workshops, and those who simply wish to offer it to family and friends in a ritual space, without holding formal classes.

+ How do I start?
To recap: the first part, the [Intro to Qoya Online Training][1], can be done online and is a great introduction to the principals of Qoya and teaches you how to start leading your own at-home practice.

The second part, the Initiation to Qoya Teacher Training, is completed by taking 11 Qoya classes online or in person, attending an in person Initiation training, and teaching 11 Qoya classes to friends and family. We want you to be initiated into the powerful and transformational aspects through your experience, and the best way to learn to teach Qoya is by teaching Qoya!

The third part of the Qoya Teacher Training is the Intensive.
+ Teaching 11 classes sounds hard! How do I do it? Can I advertise and charge money?
Some women feel comfortable to teach after completing the online training, but most women find they feel comfortable teaching others after the Initiation training. When you register for the Initiation training, you'll receive access to the Qoya Portal, which contains 11 audio and video classes for you to take. After you've taken them, we recommend that you teach each class to a friend or family member.

Your 11 classes cannot be advertised to the public, nor can you charge money for them; however, you can leave a basket by the door and ask for any donations for space rental and supplies so that your community can support you.

You do not need a large group to constitute a class. A class can be taught to 1 person. You can teach a class to another Qoya teacher locally or via Skype and count that as one of your 11.
The most important thing is that you arrive at the Intensive completely comfortable to teach a class to the group, so that you can focus on the real training of the retreat, which is not about the logistics of the movement, but about the deeper philosophies of Qoya and going into them first so you can then lead others.
+ I have more questions. Who do I contact?
Any questions we haven't covered here? Email us at info@qoya.love.